Not One More
Northwest Pennsylvania
Overdose…
Lost Spirit…
Grieving Heart…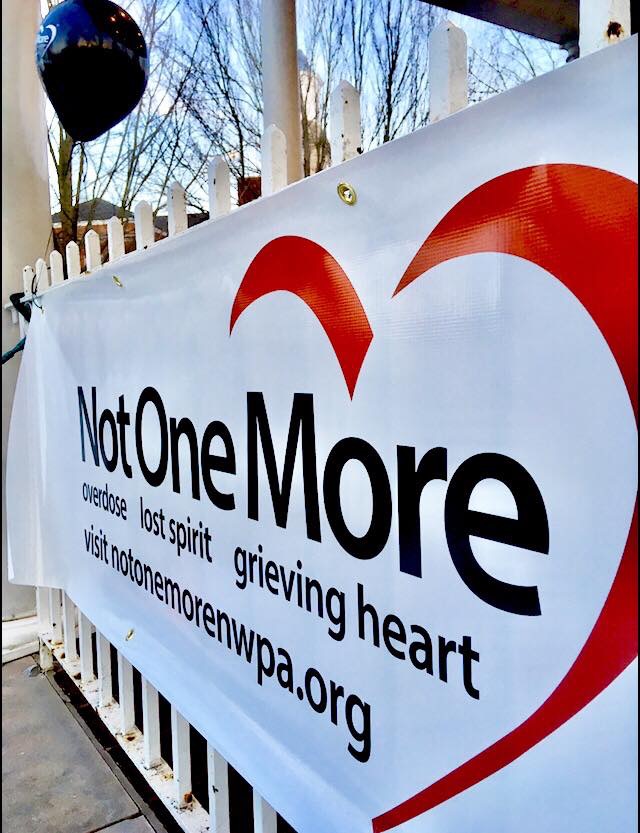 Our story begins in 2015, when a group of disheartened mothers formed a support group for those affected by the opioid epidemic in Crawford County, Pennsylvania. They called their support group Hope for Healing Hearts, and met regularly to share experience, strength, and hope, and oftentimes their pain.
They soon became a chapter of the Not One More organization, earning their 501(c)3 non-profit status in 2016. They have since developed and supported a number of ongoing community-building projects, including Thankful Thursdays, Recovery Rocks 814. They have hosted several overdose memorial events and brought Black Balloon Day to Northwestern Pennsylvania. They have earned several grants for the distribution of Naloxone and Evizio, and provide vital recovery resources and support through their website, nomnwpa.org.
They are always eager to help the addict and their loved ones, and can always use more help behind the scenes! Reach out at help@nomnwpa.org anytime.
What Not One More | NWPA does…
Support
We are a community of people that have experienced the horrors of addiction firsthand. We have found that talking about our pain, fears, hopes, and joy has eased our burden, both as addicts and friends and family of addicts. Look for information on the Hope for Healing Hearts new meeting location and time soon!
Resources
We endeavor to be a useful resource for those suffering from addiction and their loved ones. Check out our Resources page, which will become an increasingly comprehensive guide to all things recovery in Northwestern Pennsylvania and the surrounding communities.
Community Events
You can find us in our community, attending, tabling, or sponsoring events! Recent events include the MMC Wellness Fair, the Overdose Memorial Service, and Black Balloon Day.
Placemaking Initiatives
We have several outreach programs to make our community a better place to live. We believe if we improve the inclusivity and cohesiveness of our community we can overcome the scourge of addiction! Some of our efforts include Thankful Thursdays and Recovery Rocks 814.
Naloxone Training and Distribution
Naloxone or Narcan is a life-saving opioid overdose reversal drug. We provide training, detailing when and how to use Narcan. We also work to spread awareness and availability of this life-saving drug. Accessibility of Narcan directly improves the likelihood of surviving a drug overdose.
& More!
We are always looking for more ways to serve our community! Submit a suggestion, join us at a meeting or event! We are also looking to for more committed people to join our Board! Get a hold of us! Let us know your thoughts!
Our Board
Join us in our mission to see a day when there is Not One More…
overdose… lost spirit… or grieving heart…
Fill out our Board Application below.

Print to PDF, and send completed application to help@nomnwpa.org.
Thankful Thursdays in the News
NOM | NWPA Members in the News
Our History
We are a growing nationwide organization aimed at stopping the opioid epidemic.
Not One More is a nationwide 501(c)(3) nonprofit organization with fourteen (14) chapters as of April 2017. It is quickly growing as concerned parents, brothers, sisters, wives, husbands, kids, friends and family members, recognize the community need for support for those suffering from the opioid crisis.
We are here to effect change in our community, no matter how difficult that road may be. We are determined, committed and passionate about this mission. We will move forward with steady and thoughtful acts to accomplish these goals. To stand united as a community to say
Not One More overdose,
Not One More lost spirit, and
Not One More grieving heart."